Paramedic Jobs Alerts Service!
The Paramedic Jobs Alerts Service will email you as soon as your ambulance service is recruiting and let you know where to go to obtain an application form.
Why this service is important for anyone looking to join the ambulance service?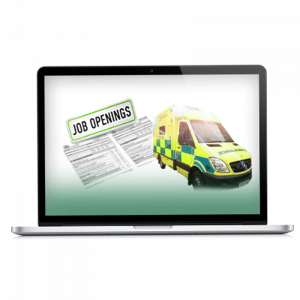 The problem is that we are all busy with our daily lives, and we aren't able to check our ambulance service's website every day to see if they are recruiting.
Our service takes that hassle away from you as we do all the work. We get notified as soon as a force starts recruiting and we can then pass this information onto you so that you can make sure you get hold of an application form before the deadline closes.
This service will put you ahead of all the other applicants and takes the hassle out of getting your dream job in the ambulance service.
Why is this service essential today?
You may have noticed that it is becoming increasingly difficult to get hold of an application form?
Nearly all application forms can be obtained from your local ambulance service website, only if they are recruiting phrase,
The difference now is that the paramedic recruiting phrase is now typically a few HOURS rather than a few weeks.
What this means for applicants is that you have a window of a few hours to download an application form before it is removed from the website!
So recruitment campaigns have changed from a few weeks to few hours!
You need to stay one step ahead and our email alert service does this for you.
How does the service work?
Once you have signed up to the Paramedic Job Alerts service, you will be added to our paramedic jobs recruitment list. As soon as we are informed that an ambulance service is recruiting for a particular position we immediately email you with the name of the ambulance service, the position being recruited for and the link to page where you can get hold of an application form. Giving you the maximum amount of time possible to apply for the position!
How much does the service cost?
The email alert service cost just £2.95 per month.
Or you can signup for the yearly service for just £30.
Consider how much it would mean to you to get your dream, and for just £2.95 per month you can get guaranteed alerts for when your ambulance service is recruiting.
Is it worth £30 for a year to ensure you get hold of an application to take you one step closer to becoming a paramedic?
Here's How To Signup To The Paramedic Jobs Alert Service:
Simply select from one of the following options:
Option 1: Paramedic Job Alerts Service – £2.95 per month
Option 2: Paramedic Job Alerts Service – £30 per year